05 Nov 2008 -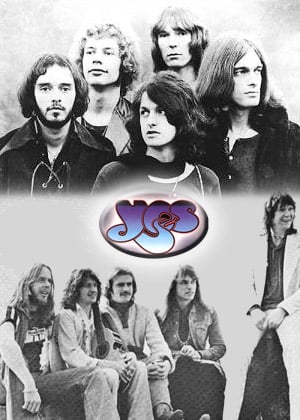 The Overlong And Bloated History Of 'Yes'




In 1968 Jon Anderson met Christ Squire in a Soho nightclub, having shared very similar tastes in music and a love for classical music and big band jazz, they became fast friends. Anderson already had musical experience singing for the pop band The Warriors with his brother Tony, he was also briefly a member of Gun, a early progressive rock band... Chris had played bass for psychedelic rock band The Syn. With their experience they visualised forming a band that took desperate musical forms such as classical and jazz and putting it in a more "rock" enviorment... Having just met they already began working together, they hired Squires Syn bandmate Peter Banks on guitar as well as Tony Kaye on keys and Bill Bruford on drums, both of whom had quite a lot of experience playing in jazz bands. This became the original Yes lineup, the name itself was suggested by Banks, who thought "Yes" was a simple but memorable band name... Their first gig was at a youth camp in August 4, 1968 and shortly after that they opened for Cream at their infamous farewell concert at Royal Albert Hall... They quickly became well known for taking classic pop songs and turning them into elaborate, complex compositions... Eventually they found themselves opening for Sly & The Family Stone and doing gigs in The Marquee club... A year later they signed with Atlantic Records, which was also Led Zeppelins label at the time, they quickly began working on their first album, Yes, which featured covers of The Beatles Every Little Thing and The Byrds I See You... Squires muddy infectious basslines, Kayes bubbly keys, Brufords intricate percussion, Banks country and jazz fused guitar style, Andersons trademark falseto vocals and the overall moody compositions, virtuoso musicianship and lush harmonies gave the band a distinctive personallity in the peak of the flower generation.

In 1970, they took their ideas and ambition to an even greater extreme, by incorperating a symphony orchestra into their second album Time And A Word, critical reaction was mixed, some praised them for their unique sound and powerful delivery, others fealt that the symphony orchestra overshadowed the efforts of Kaye and Banks and overall was just a gimmick, because of this, Banks quickly left after production was finished, and he was almost immediately replaced by ex-Tomorrow guitarist Steve Howe, who brought his unique country, jazz and flamenco fused style into the already diverse musical mix of genres that Yes incorperated, being a much better guitarist than Banks, Yes quickly released that with Howe they no longer required the assistance of an orchestra to make elaborate music with rich harmonies, they simply had all the chops they needed to be their very own orchestra... It's interesting to note that even though Howe didn't play on Time And A Word, he appears on the album cover.

Soon they began working on The Yes Album, their third effort and considered by many fans to be their first truly satisfying album, it was the first album to feature only original compositions and the songwriting was getting better... Starship Trooper and Yours Is No Disgrace became some of Yes's most beloved works, and I've Seen All Good People became a modest hit when it was edited and released as a single... Also, it was with this record that they began their long term relationship with producer Eddie Offord, it's also the first Yes album to feature the moog.

In 1971 Kaye left so he could form his own band, Badger... The main reason was over creative differences and his inabillity to keep up with Howe and Squires increasingly intense improvisions, as a result he was replaced by classically trained pianist/keyboardist and former David Bowie sideman Rick Wakeman who had just left The Strawbs, he quickly won over fans for his memorable stage persona of long glittering capes and his ridiculously long blonde hair... It was Wakeman who introduced the mellotron to Yes's music, giving them an even lusher sound and an almost cinematic feel... His baroque classical solos were the perfect foil to Howe and Squires own unique styles... Yes's first recording with this lineup was a version of Paul Simon's America, which is largely considered to be their best cover.

Only months after The Yes Album they began working on a forth album, Fragile, according to legend this was because they needed money fast in order to pay for Wakemans musical equipment... This album introduced Wakemans sophisticated soloing and Mellotron harmonies, in addition Squire began experiementing with wah pedals and a lot more distortion, which was unusual for rock bass players at the time... The album featured 5 solo tracks from each member but in addition 4 group efforts, some releases have included the America cover... Fragile was the first Yes album to feature art work from Roger Dean, known for his sci-fi and fantasy influenced artwork, he has been a Yes associate to this very day and provided the overall visual element of the bands albums... Fragile was a big success and was the groups first trans-antlantic top ten hit, Roundabout became their most popular song, and is still a radio staple today... This is the album that truly led to the bands mainstream success, they soon began touring with Black Sabbath... In the meantime Anderson began collaberating with other musicians, he guested on King Crimsons third album Lizard.

The fifth album, Close To The Edge, was also a big success and it is largely considered to be the strongest Yes album, shortly after it's release Bruford left, fearing that the band had met it's peak, as a result he joined King Crimson, with whom he has played with ever since... Close To The Edge is notable for many innovations in the bands ever evolving style, the fantasy and sci fi elements of Andersons lyrics were being replaced with more religious themes... The title track was inspired by Hermann Hesse's novel Siddhartha, and it was 18 minutes and 41 seconds in length, making it the longest Yes song at the time, beginning a trend of very long epic songs that made up one side of the whole album, Yes would use this format again with The Gates Of Delirium off Relayer and Awaken off Going For The One... This album also has Yes experiementing with different instruments including sitar and harpsichord, and they would continue to do so throughout their career... Close To The Edge was an instant critical and commercial success, and it is hailed as Yes's magnum opus, it became very popular in several european countries, especially The Netherlands... The band would do a big supporting tour for the album with former Plastic Ono Band drummer Allan White replacing Bruford, material from this tour can be found on Yes's first live LP Yessongs, which was released in 1973 as a 3 disc vinyl set but it's now available as a double CD.

1973 was an important year, which oversaw the release of pivotal albums such as Genesis's Selling England By The Pound, King Crimsons Larks Tongues In Aspic, ELP's Brain Salad Surgery and Pink Floyds Dark Side Of The Moon... The progressive rock movement was bigger then ever, and Yes were leading the charge... With a new member, Yes were desperate to figure out how to make a follow up to such a successful series of albums, this time out the sixth album would be the bands most ambitious and unconventional piece of work yet, it was called Tales From Topographic Oceans, and it became the most controversial album in the bands discography... The album was a double LP with only two songs on each disc, 3 of the songs were over 20 minutes long, the other track was around 18 minutes... Again, the lyrics took inspiration from religious literature, in this case Paramahansa Yogananda's book Autobiography of a Yogi... Musically it features some of the bands most original work, however, it's critical reception at the time was extremely negative, many fealt that it was bloated, uninspired and overlong... Which many fans continue to debate today... In fact, Wakemans own disliking for the album became very well known, complaining that Anderson and Howe assumed most of the creative controll, giving him very little to do, he also expressed annoyance with the very optimistic behavior of his bandmates, which included Howe and Anderson covering the studio floor with tiles to simulate the accoustics of a bathroom, as well as decorating the studio with farm and animal props and stacks of hay to give the studio a simple "happy" vibe, unfortunately this lead to lice ruining some of Wakemans keyboard equipment, Wakeman angry and unimpressed, spent a good deal of his time at bars drinking and playing darts... One inccidant became well publicized when Wakeman refused to play his material during one performance and instead resumed to eating Curry that he had ordered... Because of the negative criticism, many consider TFTO to play a major part in the development of punk rock, in which bands like The Ramones and The Sex Pistols expressed their hatred for the progressive rock genre. However, many Yes fans continue to defend the album for it's virtues and forgiving it for it's flaws.... It's considered by many prog fans to be a classic.


Wakemans love/hate relationship with the other band members became well known, the diciplined and restrained but liberal and optimistic nature of the other band members (especially Andersons) clashed greatly with Wakemans excessive, cynical and unpredictable behavior and conservative views... One example is that Wakeman was the only non-vegetarian in the band at the time... Out of pure fustration, Wakeman finally left the group that same year, and he was replaced with Patrick Moraz... Wakeman would persue a long solo career, which became known for it's campiness, excessive instrumental approach and unusual interpretations of famous literary works... In the meantime he continued to collaberate with other bands, including bar buddies Black Sabbath with his work on Sabbath Bloody Sabbath.

Yes continued to work dispite newfound media pressure, critics claimed that the bands 15 minutes of fame were up, but Yes got the last laugh with their seventh studio album Relayer, which was a surprising commercial success, especially with the negative criticism of their previous effort... Relayer featured new sounds and influences in the band, including the highly free form, improvised style of bands like King Crimson, Mahavishnu Orchestra and Syd Barrett era Pink Floyd, resulting in a more agressive, dissonant sound and a noticable contrast to the style of music that Yes had been making up until that point... Howe began experiementing more with pedal steel guitar, and Moraz introduced the Orchestron which was a successor to the mellotron, providing a more sci-fi like feel, because this is the only Yes album that Moraz appears on, the Orchestron and Moraz's crafty synth work gives the album a unique quality as well as Squires interlocking lines and Howes more crisp sounding guitar work.

After Relayer the band took an extended break for solo activity, Anderson began a surprisingly meritable solo career and a long and rewarding partnership with keyboard master Vangelis, best known for his movie scores... Steve Howe and Chris Squire both made their first solo albums in 1975, Howe's Beginnings and Squires Fish Out Of Water, respectively... That same year, Wakeman, who was still enjoying the modest success of his own solo career, began the infamous Myths and Legends of King Arthur and the Knights of the Round Table tour, complete with a theatrical performance of dancers... On ice... Easy to say that the tour was a total failure, and it is still the subject of ridicule even to this day.... Finally, Yes were back at it in 1977, and to everyones amazement, Wakeman was along for the ride, Moraz was fired over creative differences, and the band was eager to welcome the returning Wakeman with open arms... The result was Going For The One, Wakeman once again incorperating the grand classical style he was known for, but with new tonal explorations, in addition Howe's guitar tone became more distintive, while Squires bass playing was surprisingly low in the mix and quite subdued, the critical reaction was mixed at best, but it was a modest success, even in the wake of the punk movement, were Yes were a vulnerable target, some Yes fans still consider it a underrated album... Also of note is that it was the first Yes album not to feature artwork by Roger Dean, instead it was done by Hipgnosis, known for his iconic work with Pink Floyd and Led Zeppelin, the Dark Side Of The Moon, Wish You Were Here and Houses Of The Holy covers are among his work.

They quickly followed suit with Tormato, the infamous cover from Hipgnosis was inspired by an inccidant involving a earlier cover design for the album, which was originally meant to be called Tor, Wakeman dispised the cover and apparantly threw his tomato sandwich at it, which resulted in the new album cover with the name to match... The album was an unusual entrie for Yes, the lyrics were less metaphorical and more specific, political and humorous, Squire incorperated a unique bass sound using custom equipment, providing a rather aquatic yet funky sound... Also on this album Wakeman used a new sampling device of his own design, called the Birotron, which featured a fancy yet overelaborate sound quality, oddly enough not even Wakeman owns one anymore... Tormato was a critical disaster, and it's considered their worst 70s album, nonetheless, Don't Kill The Whale and Arriving UFO enjoyed modest popularity.

Dispite the failure of Tormato, Anderson and Wakeman were optimistic to do a new album, the other band members were not, so Anderson and Wakeman dicided to leave the band in 1980 and continue with their solo careers. However Howe, Squire and White had a change of heart and dicided to do another album together as Yes, they enlisted former Buggles members Trevor Horn as both producer and vocalist and Geoff Downes on keys, the result was Drama, which featured a more new wave and hard rock influenced sound, Yes began sounding more like The Police and Rush than Yes, dispite this, it won the fans over and got some good reviews, but it's commercial success was poor, being the first Yes album in nearly a decade to not reach top 10 status in the US charts, Dean returned to do the album cover... That same year another live album, Yesshows, which featured recordings from earlier Yes concerts was released.

After a disapointing supporting tour, Yes officially disbanded for the first time, Squire and White were doing sessions with Jimmy Page in hopes of starting a supergroup together, it was to be called XYZ, unfortunately it never got off the ground... Nonetheless Squire and White continued to work together and they formed Cinema with guitarist Trevor Rabin, after hearing some of their material Anderson was so impressed that he decided to put old differences aside and collaberate with them on this new project, Roxy Music keyboardist Eddie Jobson was briefly in the band but was replaced by original Yes keyboardist Shortly afterwards. Yes were back, Trevor Horn returned as producer and they began work on a new album, in 1982 90125 was released, and Yes were reborn as a new wave pop group, with Owner Of A Lonely Heart and Leave It becoming their most populer singles to date, they found a brand new, younger audience in the MTV generation, many were not even aware of the bands previous incarnation, because of this many older fans accused the band of selling out, nonetheless Owner Of A Lonely Heart is still a big radio hit today.


Meanwhile Howe and Downes expressed interest in starting a new band together with former King Crimson bassist John Wetton and ELP drummer Carl Palmer, it was to be called Asia, the original lineup only lasted for two albums, the self titled debut in 1982 and Alpha in that very same year... Both enjoyed major mainstream success, however Howe left the band before production for their next followup album began, though Wetton stuck around for one more album he left shortly after... Meanwhile Yes exploited their newfound popularity with another live album, 9012Live: The Solos in 1985 and their next studio effort Big Generator in 1987, both were modestly successful, Anderson decided to call it quits, and began yearning for the progressive rock sound he was most well known for and began collaberating with Howe, Wakeman and Bruford once again, this time under the name Anderson Bruford Wakeman Howe since Squire and White currently owned the rights to the "Yes" name, technical wizard Tony Levin filled Squires shoes as bassist, the 1988 self titled debut was a modest hit, and was followed by the 1993 live album An Evening of Yes Music Plus with Jeff Berlin on bass... Meanwhile Squire, White, Kaye and Rabin continued to work together under the Yes name and collaberating with Supertramp singer Roger Hodgson and multi instrumentalist Billy Sherwood... There were now two versions of Yes, the Squire, White, Kaye, Rabin, Sherwood and Hodgson version, with the greater emphasis for pop and the more proggy version of Yes with Anderson, Bruford, Wakeman, Howe and Levin. Many legal battles ensued, but being the invasive bastard he was, Anderson decided to get involved with Squire, White and Rabin once again, this time combining material from both bands, and releasing it as a double album, all the members of both bands except for Hodgson became involved, the result was Union in 1991... While fans were happy to see Yes become a "whole" again, some fans were disapointed in the actual outcome, even so, the supporting tour for the album was one of the biggest of 91/92... Many followups were released throughout the 90s, Talk came out in 1994, this time with only Anderson, Squire, White, Kaye and Rabin in the lineup... The reception was poor, and Kaye and Rabin parted ways... In 1996 Anderson, Squire and White reunited with Wakeman and Howe, bringing back the classic 1973 lineup.... They did two albums Keys to Ascension and Keys to Ascension 2 before Wakeman left again... For their 1997 release Open Your Eyes, Sherwood took keyboard and additional guitar duties, Igor Khoroshev and Toto member Steve Porcaro also provided keyboards on some tracks... With Khoroshev and Sherwood along for the ride Yes released The Ladder in 1999, in 2000 they released House of Yes: Live from House of Blues, shortly afterwards Khoroshev was fired over a sexual harassment scandal. In 2001, Yes decided that they could do without a keyboardist and hired a symphony orchestra and conducter Larry Groupé to record their next album Magnification, reusing a concept they once attempted with Time And A Word, but this time more successfully.... Fans and critics alike praised it as a glorious return to form and called it the first above average album the band had done in years... In 2002 fans were delighted to see Wakemans return to the band for their first major tour in years... Currently, White is working on a new project with Geoff Downes called White, and Chris Squire joined a reunited version of his old band The Syn... Downes and Howe have recently announced plans for a Asia reunion for a 25th anniversary tour... In october 2005 Anderson announced that a 2006 tour was out of the question, but that a new studio album in 2007 could be in the works, many fans are hoping that they will do a new album and that it will be even better than Magnification.

Hope you like it.
For free Albums n Songs click here.